The First 5 Steps to Choosing a Gun Safe in Australia
Author: Need 1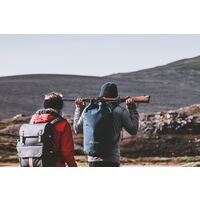 You are probably part of a big group of gun owners you didn't even know about.
Right now there are there are over 3.6 million guns in Australia and over 1 million registered gun owners just in New South Wales alone. And it looks like it's a growing trend: 90000 of these gun owners have received their gun registration in the past two years .
It's clear a lot of Ausssies like owning guns – whether they do so for sports shooting, for hunting or for safety and protection.
Whatever your reason, owning firearms comes with some real responsibilities to keep them safe.
When choosing a gun safe, here are 5 things to ask yourself:
Take stock of what you own
Knowing how many guns you own will be the first thing to consider.
Rifles built for long range shooting? You'll need a gun case that is tall enough to fit the length from handle to nozzle, with a little extra wiggle room thrown in. Typically a good rifle storage safe sits at about 145cm in height, which allows for extra room atop your long guns for storage of your ammunition and accessories.
JMV rifle safes come in a 3 rifle size, 5 rifle size, and 20 rifle size, all of which you can find at the Need1 website here.
Own a lot of ammunition and want a separte storage container? Check out JMV's ammo boxes which come with thick 6mm steel walls. Find them here
Where will you store your gun safe?
In the garage, in your bedroom or hidden in the corner of a closet are all good options. Wherever you store it, just make sure the spot you choose is a low traffic area of your home or site. The less people see your gun safe, the safer your items are.
Measure the height, length and width available in your chosen location and write these numbers down. These will be handy for when you're browsing the market for what's available.
Need 1 offers a complete range of cases from small to large, for all different gun types. Bookmark Need 1's gun safe page here, or take your notes with you when you shop in person.
Do you plan to grow your gun collection in the future?
You may have a couple of prized rifles, but plan to gift yourself with a new model later this year when summer rolls around. If you think you'll to be adding to your collection, choose a gun safe that includes a little extra room for new additions.
The JMV 20 Gun Safe has ample space for a growing collection, and also features options in electronic key pad opening, key lock opening, or both.
One of the top complaints gun safe retailers hear is 'I wish I had bought a larger model!' . Many gun owners end up storing more than they thought they would in their gun safes. That's not only because collections grow, but also because you'll probably end up storing some other valuable items inside your safe. Jewlery, private documents or photos, and other valuable possessions can find their way inside – after all, your gun safe will become the safest and most impenetrable spot in your house!
Does it meet safety requirements?
This is the most important factor to consider when choosing your gun safe.
Later in the buying process, you'll get more familiar with the different features and options that are right for you. Check out our gun safe features breakdown here.
At the most basic level, gun owners in Australia must ensure that their firearm:
Is kept safe
Is not lost or stolen; and
Does not come into the possession of a person who is not authorized to possess the firearm.
In NSW, Category A & B firearms must be stored in a locked gun safe and governing bodies suggest that all gun safes be made of steel.
There are a few other guidelines Category A & B gun owners must comply with when buying a gun safe. These are:
The safe's locks must be of solid metal, and ammunition must be stored in a separate lockable container
Gun safs that weight less than 150kg must be securely fixed to 'the framework of the premises' on which it is held.
All Need1 Gun safes locks are made of solid metal and come with pre-drilled bolt holes and fixings to ensure you can secure to a surface in the easiest, most convenient way: https://www.need1.com.au/20-gun-key-pad-3-spoke
Category C,D & H
If you're a gun owner that has access to firearms which are prohibited except for limited purposes, these are Category C firearms:
Gun safes in this category must :
be constructed of at least 3mm steel sheeting (longarms) and 6mm steel sheeting (pistols)
be fitted with concealed hinges and a commercial quality flush mounted lock
The door must be no less than 6mm in thickness.
Ammunition must be stored in a separate lockable container/compartment to that of the firearm.
The JMV Pistol Hand Gun Ammunition Boxes are used for pistol storage and have solid 6mm walls and doors, and come in both 20cm and 40 cm models.
5. What's your budget?
Gun safes in Australia can range from $109 all the way up to $1995 and beyond, so knowing your size and feature requirements should be your first points of consideration. Having a list of your preferred sizing, and the feature requirements you want to meet will help you when browsing the range of items available on the market.
Having said that, gun owners around Australia and New South Wales want a range of gun safes that are a high-quality build at reasonable prices.
Need 1 sources JMV and Winchester brand gun cases that are safety approved, heavy duty and quality build. These safes come in at the best price points around while maintaining the high quality standards Aussie buyers look for. Our buying managers research the market and use their purchasing power built over decades in the industry to get you high quality gun safes at the most competitive prices in Australia.
Contact our friendly team at info@need1.com.au for any questions, or to discuss which model is best for you.
Our gun safes are available for viewing at our Sydney warehouse during regular business hours or on Saturday by appointment. Call Jim on (02) 8319 2042.